Even the most luxurious vehicles need a little TLC. Here are a few tips to keep your Lincoln model in tip-top shape.
Service Regularly
To maintain their tip-top performance, luxury cars require more frequent maintenance than other cars. Be sure to change your vehicle's oil regularly to keep it running smoothly, and take your Lincoln to a technician if your engine speed ever changes without your direct input. Change your tires when their trim thins to about 1.5 mm.
Be Gentle On The Interior
Keeping your car's luxurious interior pristine is important, but requires effort. Use leather cleaners on the seats to remove dirt and other regular debris, as well as approved cleaning products for your car's hard surfaces. When wiping off the cleaner, use a microfiber cloth for the best results.
Keep An Eye On The Exterior
The elements — and birds — take their toll on cars. Wash your Lincoln regularly to keep it shining and beautiful. If you plan to use vehicle polish, be sure to research what type of polish is safe for your car.
When washing your Lincoln, try running the windshield wipers. If they squeak, look into replacing them.
Drive Safe
Be careful on the road — all the assistive features in the world can't protect your Lincoln from bad driving. No matter the road conditions, keep your eyes open and stay alert.
That said, don't grow so cautious that you never drive your new Lincoln. You've paid for it — get your money's worth and drive it! For more in-depth vehicle care and maintenance, bring your Lincoln to Ray Pearman Lincoln for all of your service needs.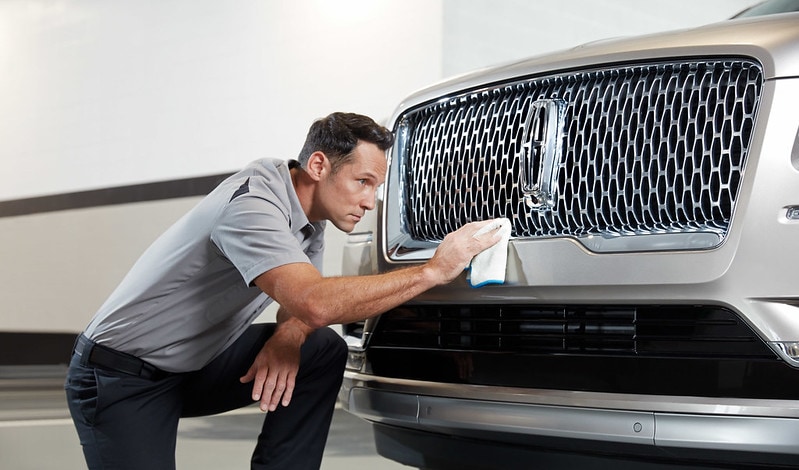 ?