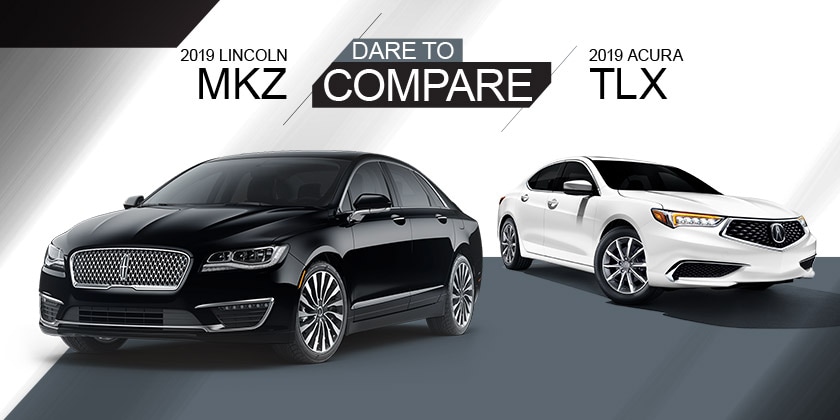 The 2019 Lincoln MKZ is a luxury midsize sedan with Lincoln class, refinement and capabilities. Luxury isn't just determined by the exterior and interior of a car, though. A true luxury vehicle is built from luxury parts. When it comes to comfort, capabilities and features, the 2019 Lincoln MKZ stands apart from the 2019 Acura TLX as the better option for luxury sedan-buyers.
Power
The 2019 Lincoln MKZ is a much more powerful option than the 2019 Acura TLX starting at its base trim. Its 245 horsepower dwarfs the 206 offered by the Acura TLX. The torque disparity is even greater; the 2019 Lincoln MKZ provides 275 lb-ft of torque at only 3,000 rpm, far outstripping the 182 lb-ft of torque produced by the Acura at 4,500 rpm. The lower rpm threshold in the Lincoln allows for quicker acceleration, which makes a difference while merging or starting in a busy area.
Space
The 2019 Lincoln MKZ knows that a luxury sedan needs luxurious amounts of room to stretch out. Acura didn't get the memo with the TLX. A total of 97 cubic feet of passenger space in the Lincoln MKZ is 4 cubic feet more than that in the Acura TLX. Enjoy more leg room and head room in the Lincoln MKZ. On a long drive, a few more inches of space makes a significant difference.
Family vehicles need enough storage for families with full schedules. Approximately 15.4 cubic feet of cargo space in the 2019 Lincoln MKZ beats the cargo space in the 2019 Acura TLX by over a cubic foot.
Luxury features
Luxury sedans need features to match. Lincoln thought outside of traditional boundaries with the introduction of the unique Lincoln Pickup & Delivery™. If your car needs any servicing, contact a Lincoln Service Valet through the Lincoln Way™ app. Your valet will pick up your car, provide you with a Lincoln Loaner™ and then return your Lincoln washed and serviced. Acura offers no such service.
Test-drive the 2019 Lincoln MKZ at Ray Pearman Lincoln.
Make an Inquiry
Hours
Monday

9:00AM - 6:00PM

Tuesday

9:00AM - 6:00PM

Wednesday

9:00AM - 6:00PM

Thursday

9:00AM - 6:00PM

Friday

9:00AM - 6:00PM

Saturday

9:00AM - 6:00PM

Sunday

Closed